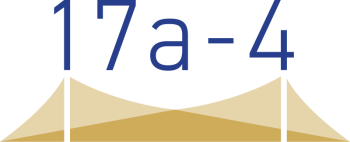 Webex Connect has been added to the DataParser roadmap.  The new Webex Connect module is slated for Q1 2024.
17a-4, LLC has added Webex Connect to the development roadmap.  Cisco is a longtime partner of 17a-4 with Jabber and Webex integrations.  DataParser is a leading compliance solution to bring third-party data into any archive or eDiscovery platform.  Webex Connect is part of Cisco's Communications Platform as a Service (CPaaS) to automate and orchestrate customer interactions with communication APIs for over 16 channels.
"We are excited to have another integration with Cisco on our roadmap.  Collecting Webex Connect users' data is a key compliance requirement for our clients."  said Charles Weeden, Managing Partner of 17a-4.
DataParser supports Webex Messaging and Meeting collection via APIs and Jabber collection from IM&P archive databases.  DataParser handles the capture, formatting, and delivery of messages.  Typically used for Security and Compliance requirements, DataParser is designed for verifiable chain of custody and regulatory compliance.  Archiving Webex data for HR, remote work, IP, legal or corporate policies are common use cases.
Supported data sources include Webex, Zoom, Microsoft Teams, Slack, Symphony, SharePoint and more.  Collected data types include chats, texts, images, meetings, documents, data feeds and collaboration activities.  DataParser offers modules for CSV exports, SQL databases and Email Relay processes to further streamline data collection and reporting.
DataParser supports delivery to any archive or eDiscovery platform including Microsoft 365 Purview, Google Vault, Proofpoint, Mimecast, EV, MessageWatcher and others.  DataParser supports multiple configurations for more complex environments.  Data can be sent to specific archives or locations to comply with data regulations.  Users' chat and collaboration activities are never disrupted by the DataParser's processes.  All ingested data sources are fully indexed and searchable via typical eDiscovery queries.
On-premise and cloud plans are available.  17a-4's Hybrid Suite bundles key services for Enterprise clients.  For more information visit 17a-4.com.  DataParser is on Webex App Hub.
DataParser adds Cisco's Webex Connect to the roadmap (globenewswire.com)